BIOGRAPHICAL INFORMATION ON JEFF WATERS
The Golf Guy and Host of "Talking Golf"
Jeff Waters is a fully certified and trained PGA Master Professional, and a member of an elite group of golf professionals in the PGA of America to have earned this prestigious title. He has over 40 years experience in the business of golf, including 10 years of playing the game at all levels; 10 years as a Head Golf Professional overseeing all aspects of the total golf course operation; three years as Director of Player Development for Salt Lake County Parks and Recreation, administering and managing multiple golf course programs; and for the last 20 years has been President and CEO of his own golf management company, Rocky Mountain Golf Enterprises. Mr. Waters is a Political Science graduate of the University of Utah, has done graduate work in Economics and Commercial Recreation at that University, and holds a Master of Business Administration degree from the University of Phoenix.
Mr. Waters is known as an outstanding instructor in the game of golf. He has given thousands of private and group lessons. His Rocky Mountain Golf Academy has attracted national attention for its innovative approach to teaching and its hundreds of satisfied students. Mr. Waters has participated in the PGA's elite specialty teaching certification program, has attended the PGA's national Teaching and Coaching summit, has been awarded Teacher of the Year in Salt Lake County multiple times, and has hosted and organized golf trips, tournaments, and golf events throughout the United States
A well-known golf writer, Mr. Waters' articles and instruction features regularly appear in the print media and he is a member of the Golf Writers Association of America. He is the author of two golf instruction books: "The Ten Commandment of Golf, Proven Principles That Make Your Golf Game Better" And "The Short Game, the Transition from the Golf Course to the Putting Green." Mr. Waters also provided the narration on  the e-book: "The History of the Utah State Amateur Championship" available as a download on ITunes .
Mr. Waters hosts a weekly golf show "Talking Golf," on the Rocky Mountain Golf Network, which is broadcast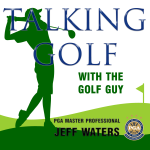 throughout the Western United States. Known as "The Voice of Golf" and "The Golf Guy" throughout the Intermountain West, Mr. Waters is regularly sought out for his advice and council, and speaks to groups often on golf-related subjects.
Mr. Waters has attended, broadcasted, and written about golf tournaments around the world, including The Masters, U.S. Open, PGA Championship, Ryder Cup, regular PGA Tour events, Champions Tour events, Web.Com Tour events, and others.